Research and Awareness
Surgical Oncology Research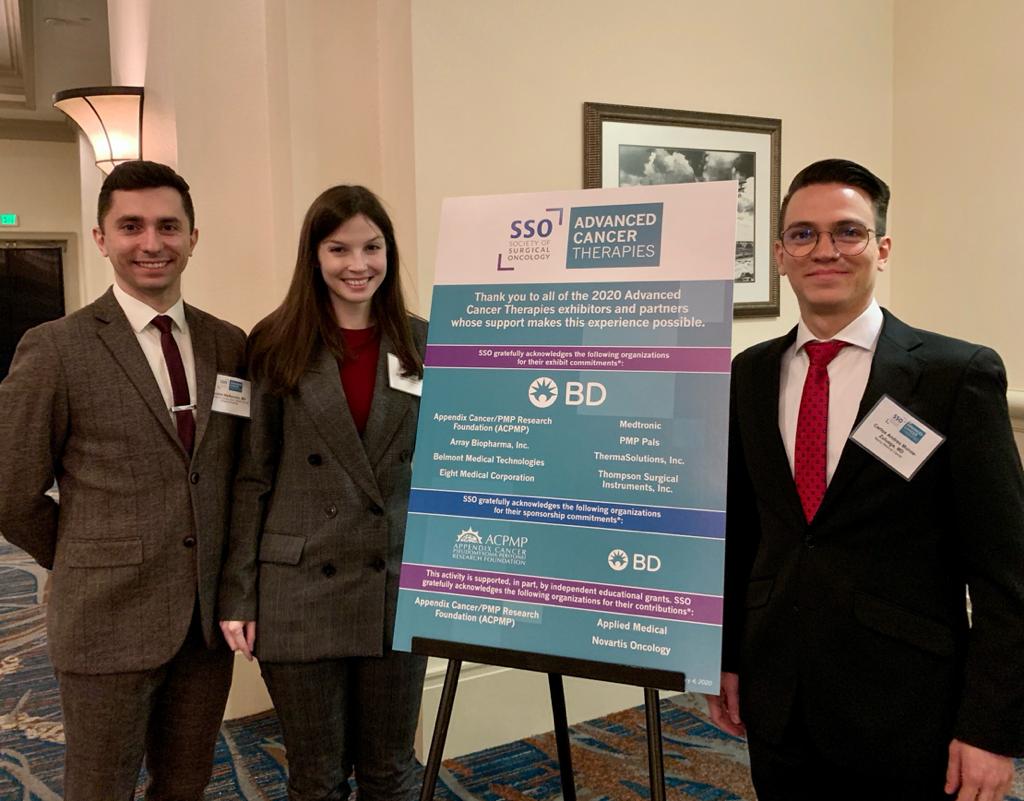 Dr. Andrei Nikiforchin, Dr. Ekaterina Baron, Dr. Carlos Munoz at the
Advanced Cancer Therapies conference in Orlando Florida in February
The comprehensive HIPEC program at Mercy is a highly specialized referral center, reaching patients throughout the United States with over 900 HIPEC procedures performed. Our clinical team consists of surgical oncologists, medical oncologists, physician assistants, nurses, and other specialists working together to provide the best possible treatment and care for our patients.
Dr. Armando Sardi and colleagues, Dr. Vadim Gushchin and Dr. Kurtis Campbell, are widely recognized for their HIPEC expertise and lead the research department of surgical oncology. The research team consists of a study coordinator, a research nurse coordinator, research scholars, and a research advisor. The team manages the clinical trials and research studies, performs medical literature reviews, and conducts data collection and analysis with the intent to publish in major medical journals and present at medical symposia.
The research scholar program aims to train future researchers to better expand the knowledge available to both the scientific and the medical communities, leading to better cancer care and management.
Our objective is to educate general practitioners, general surgeons, and surgical and medical oncologists on HIPEC treatment for advanced cancers with peritoneal spread. We are able to increase HIPEC awareness in the medical community through our:
Clinical research trials/studies
Data presentation at national and international conferences
Publication of our work in major medical journals with 15 publications in 2020
This work will ultimately lead to timely referrals and the appropriate care with improved patient outcomes. Through our research efforts, we aim to increase HIPEC education and awareness as a life-saving treatment option in cancers with peritoneal spread.
---
2020 Accomplishments
Presentations at national conferences to include:
Symposium on Advanced Cancer Therapies
Two research scholars recipients of ACPMP Research Foundation Travel Award to attend the conference

Society of Surgical Oncology Annual Meeting
Publications in major medical journals representing our HIPEC research
15 publications in 2020


10 published in Annals of Surgical Oncology; Gold standard in field of surgical oncology/HIPEC
Published topics included:
Identification of mucin cellularity in low-grade appendiceal cancer
Complete Cytoreduction in appendiceal cancer
Outcomes in Ovarian cancer and HIPEC
Case reports for rare instances
A complete list of 2020 publications can be found here.


We continue to maintain and build relationships within Mercy Medical Center and outside collaborators invested in HIPEC research.
Partnerships include:
Appendiceal cancer research studies with:
Uniformed Services University
University of South Carolina
University of California, San Diego
Colorado State University
Tempus Labs, Inc.
Gynecologic Oncology at Mercy Medical Center focused in areas of ovarian and uterine cancers